AVILOO FLASH TEST
The AVILOO FLASH battery test is a quick test for professional users that comprehensively determines the functionality of a traction battery.
The test takes only three minutes to complete. Above all, this speeds up the testing of a larger number of cars considerably. The AVILOO FLASH test is therefore particularly attractive for professional users who carry out battery analyses for several vehicles.
The AVILOO FLASH Test provides a comprehensive analysis of the functionality of the traction battery without the vehicle having to be moved - as with the AVILOO PREMIUM Test, which provides an even deeper State of Health analysis. The FLASH Test is therefore suitable for all those applications where the vehicle to be tested cannot be moved or can hardly be moved, for example in the case of lease returns.
The manufacturer-independent AVILOO score is determined by analysing a large amount of collected test data. In addition, battery historical data - such as total energy consumption, number of full cycles, driving behaviour, charging cycles, etc. - are interpreted by BIG DATA applications and integrated into the AVILOO score. The AVILOO score is thus a combination of current measured values and historical data.
The higher the score, the better the battery condition. A lower score implies increased risks for possibly necessary repairs and means a reduction in the value of the vehicle. In case of substantial risks, the FLASH test provides a "Red Flag" report.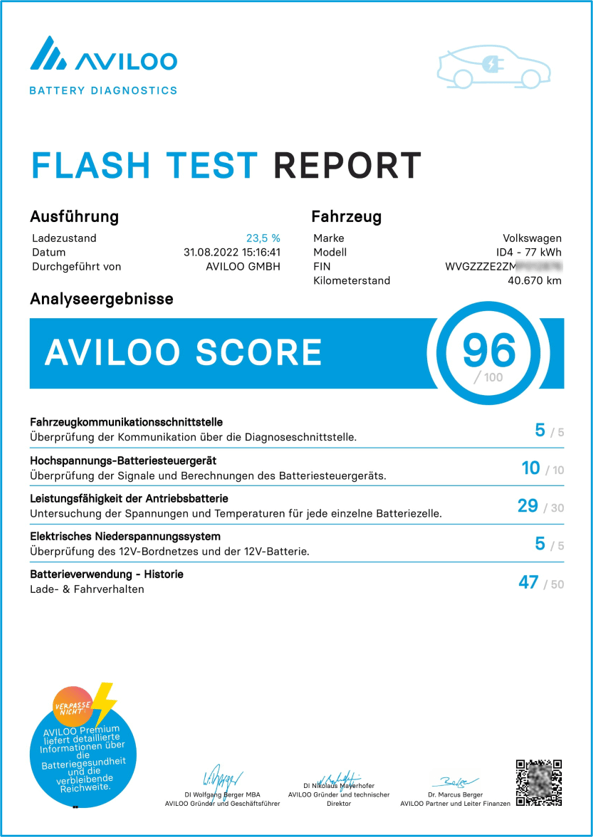 MULTIPLE TEST CATEGORIES AND PARAMETERS
The AVILOO FLASH test measures several parameters in different test categories: the vehicle communication, the battery controller, the HV battery condition, the low voltage system and the battery history.

WE ARE HAPPY TO ADVISE YOU!
Do you have questions about the AVILOO FLASH test? Simply get in touch.
The value of our technology is measured by the satisfaction of those who have tried it:
Customers cite the speed of the test as the primary test attribute and see the FLASH battery test as an optimal way to perform a quick diagnosis and battery evaluation.
Our leasing customers find that the test is a real added value, as it can be integrated very well into the rather busy workflow of a lease return. Garages appreciate the good overview the test gives of the condition of a traction battery; if they need even more detailed parameters, for example a measured SoH, they follow up with the PREMIUM battery test. The parameters measured are considered highly relevant and the data obtained excellent for the job.
The users find that the test can also be performed spontaneously and the result is available quite quickly. The test was also readily accepted for its practicability and its simplicity, as the battery condition is expressed with only one number ("AVILOO Score" note). This makes it easy to understand even for end customers.