AVILOO PREMIUM BATTERY TEST
The independent, manufacturer-independent and objective AVILOO PREMIUM test is an exact SoH test. You will receive the TÜV certified AVILOO battery certificate, which tells you everything - especially the State of Health in percent compared to new - about the health of your traction battery.
The TÜV certified AVILOO PREMIUM Battery Test provides information about the health of the drive battery of your electric or plug-in hybrid car. The health status shows you which extractable energy (expressed in the so-called State of Health or SoH) you can still use for driving at the time of the test in relation to the new state of the battery.
The AVILOO certificate gives you information about the health of the battery. The values are expressed as a percentage and are presented transparently, clearly and simply. A result of 100 indicates that the energy actually extracted during the test corresponds to the usable energy when new. The result is real, accurate and trustworthy - we not only measure the behavior of the battery while driving, but also analyze millions of data points for your result. And we are TÜV certified too!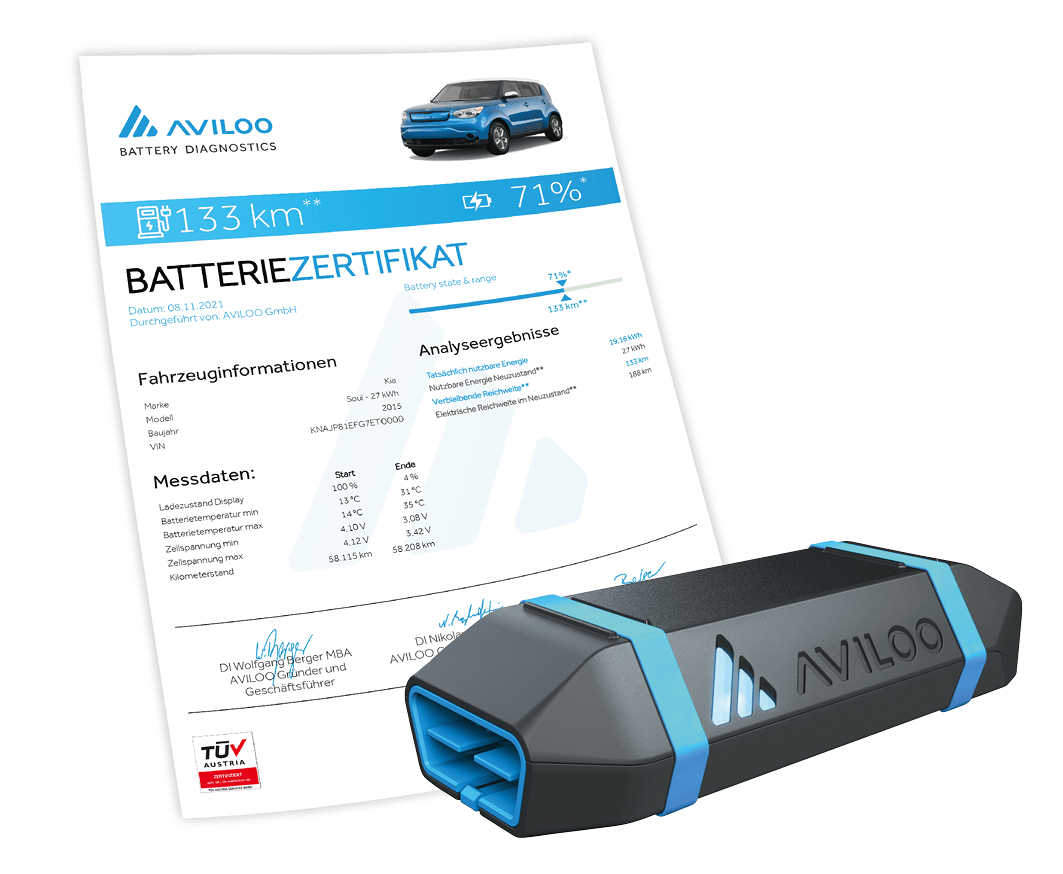 This is how easy the battery test is!
You can get the AVILOO PREMIUM Battery Test from our partners, or directly here in our webshop. The AVILOO PREMIUM Battery Test is easy to use, no prior technical knowledge is required for it.
WE ARE HAPPY TO ADVISE YOU!
Do you have any questions about the AVILOO PREMIUM battery test? Simply contact us.
Independent
The only one to test plug-in hybrids
Absolute safety about the extractable energy of the battery
Clarity about the health of the individual cells of the battery
The battery behavior measured during the test drive
Exact
More than 75% existing electric & plug-in hybrid models.
Applicable in all weather conditions
Analyzed millions of data points
Simple
Available online or on site near you
No intervention in the vehicle electronics required
No tools needed for assembly
No cell phone needed
WE WILL NOT LEAVE YOU ALONE!
Here you will find all the information you need to successfully complete the AVILOO battery test.
Georg Giglinger from Enercab tests our AVILOO battery test
VW ID.3 battery DEGRADATION determined with AVILOO
Instadriver - 514,000 km battery (SOH) test | How long does an electric car last?